Ενας Ενισχυτης με την καταπληκτικη ποιοτητα της Αμερικανικης  MCINTOSH . Mε 2 χ 200 Watt RMS σταθερα με ολα τα Ηχεια 2-4-8 Ω με τους ΑυτοΜετασχηματιστες εξοδου της MCINTOSH. Mε ενσωματωμενο αυτονομο DAC που αναβαθμιζεται και αριστο PHONO MM/MC ρυθμιζομενο . Με τα μοναδικα Power Meters της MCINTOSH , τα πληρη ρυθμιστικα και εξοδο ακουστικων. Eνα πληρες κεντρο ελεγχου της Μουσικης .
Αριστη ποιοτητα κατασκευης.
Τιμη Προσφορας  Demo :  8.790 e       Ετοιμοπαραδοτος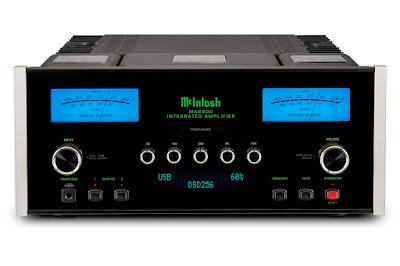 2 χ 200 Watts  2-4-8 Ω  σταθερα με AUTO-TRANSFORMERS
Bring all your music to life with the MA-8900 Integrated Amplifier. It offers 200 watts per channel and combines many new features with our legendary amplification prowess and preamplifier capabilities into one all-encompassing unit.
"The MCINTOSH MA-8900 Integrated Amplifier is everything an audiophile might desire, both sonically and in durability… The sound is dynamic without being harsh, controlled without being lifeless, detailed without becoming shrill, and absolutely realisticcan help you make the best of your music, your speakers, and your room." – SECRETS of Home Theater and High Fidelity
The MA-8900 is the first product to feature our new MCINTOSH Monogrammed Heatsinks?. They are made from high quality materials with excellent thermal conductivity properties and are so efficient at dissipating heat that they warrant bearing the MCINTOSH logo. Besides helping your MA-8900 run cool, they will also help it look cool thanks to our new finishing process that results in a higher quality appearance. They are connected to advanced high current output transistors that eliminate thermal equilibrium lag time (or warm-up time) so that the first musical note played sounds just as good as songs played later in your listening session.
To keep up with the ever-changing world of digital audio, all the digital inputs are housed in our new DA-1 Digital Audio Module. The DA-1 Digital Audio Module can be replaced by future modules to easily keep your MA-8900 current with all the latest digital audio formats and technologies. (now available: Optional dealer installed upgrade to the DA-2 Digital Audio Module.) The DA-1 comes with an upgraded 8-channel, 32-bit Digital-to-Analog Converter (DAC) used in Quad Balanced mode .It has 6 digital inputs consisting of 2 coax, 2 optical, 1 USB and 1 MCT for use with our MCT500 SACD/CD Transport. The coax and optical inputs will decode music up to 24-bit/192kHz for high resolution audio playback; the USB input accepts even higher PCM signals up to 32-bit/384kHz and supports up to DSD256 and DXD 384kHz. Analog stereo inputs include 1 balanced and 6 unbalanced plus 1 each of Moving Coil and Moving Magnet for turntable connectivity. All inputs can be given custom names for user-friendly system control and configuration. Unlike our previous integrated amplifiers, every input now functions independently of each other and all are always available for use regardless of how you connect your sources.
With "a fluid sound" that's "without hardness," the MA-8900 can cope with the most difficult speakers. Unlike many solid state amplifiers, the MA-8900 "creates no tiredness" of listening and does so "without sacrificing the speed or sharpness sometimes necessary" for certain types of music while at the same time it can do "justice to the volume of a symphonic orchestra" and exhibit "extreme refinement when the music requires it." Awarded d'Or 2017 Hi-Fi Award – Diapason
Besides new heatsinks and advanced digital audio capabilities, the MA-8900 includes many other updates. Our engineers have used new, more powerful control microprocessors to improve overall system operation. They have also incorporated some of the latest audio-grade circuit components to allow the MA-8900 to deliver the best sound possible.
"The MA8900 doesn`t sound good – it sounds marvelous, on all types of music. It engenders a sense of pride of ownership, has Cadillac build quality, [and] intelligent user features." – StereoNET
At 200 Watts per channel, the MA-8900 has enough power to properly drive virtually all loudspeakers. And the renowned McIntosh Autoformer guarantees your speakers will always receive the full 200 Watts regardless if they have 2, 4 or 8 Ohm impedance.
The MA-8900 is one of many McIntosh products to receive Roon Tested designation from Roon Labs. It has been profiled and tested by both Roon and McIntosh for maximum compatibility. Roon will recognize it and send it audio optimized for its capabilities. No fiddling with checkboxes or dropdowns, Roon Tested devices are automatically identified and configured out of the box for a superior customer experience.
Features:
Power Guard that monitors and adjusts the sound wave at the speed of light to prevent harsh sounding distortion and clipping that could damage your speakers
Sentry Monitor is our fuse-less short-circuit protection circuit that disengages the output stage before current exceeds safe operating levels and then resets automatically when operating conditions return to normal
Home Theater PassThough that allows for seamless integration into a home theater system
High Drive headphone amplifier with Headphone Crossfeed Director (HXD) which can bring an added dimension to headphone listening
A discrete, five-band tone control that permits manual analog adjustment of your favorite recordings
Power Control to send power on/off signals to connected McIntosh components for easy system power up and shutdown
Gold-plated speaker binding posts that prevent corrosion to ensure a quality signal is sent over your speaker cables to your speakers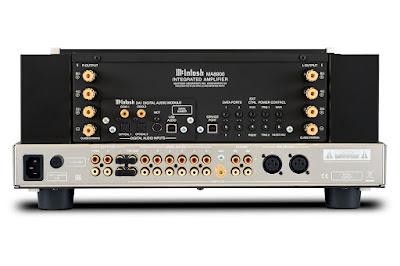 Specifications:
Power Output per Channel 2x 200 Watts / 2, 4, or 8 Ohms
Rated Power Band 20Hz to 20kHz
Total Harmonic Distortion 0.005%
Frequency Response +0, -0.5dB 20Hz to 20kHz
Frequency Response, +0, -3dB 10Hz to 100kHz
Sensitivity Phono (Moving Coil) 0.25mV
Sensitivity Phono (Moving Magnet) 2.5mV
Sensitivity High Level (Balanced / Unbalanced) 0.5V / 0.25V
Sensitivity (Power Amp input) 1.4V
Signal To Noise Ratio (Moving Coil) 80dB   / Signal To Noise Ratio (Moving Magnet) 82dB
Signal To Noise Ratio (High Level) 95dB
Input Impedance (Balanced / Unbalanced) 20KΩ / 20KΩ
Damping Factor >40
Maximum Output (Balanced / Unbalanced) 8V Unbalanced
Inputs : Balanced Input 1 – Unbalanced Input 6
Phono Input Moving Coil 1 (adjustable loading) – Phono Input Moving Magnet 1 (fixed loading)
Upgradeable Digital Audio Module Yes: DA-1
Digital Coaxial Input x 2 – Digital MCT (DIN) Input 1 – Digital USB Input 1
Unbalanced Fixed Output 1 –   Unbalanced Variable Output 2
Headphone Output 1/4″ High Drive with Headphone Crossfeed Director (HXD)
Home Theater PassThrough Yes
Service Port 1
Digital Audio Specifications :
Digital-to-Analog Converter (DAC) Type 8-channel, 32-bit/384kHz PCM/DSD, Quad Balanced
Digital Coaxial Input Sample Rate 24-bit/44.1kHz to192kHz
Digital Optical Input Sample Rate 24-bit/44.1kHz to192kHz
Digital MCT (DIN) Input Sample Rate 16-bit/44.1kHz (CD)
DSD64 (SACD)
Digital USB Input Sample Rate 32-bit/44.1kHz to 384kHz (PCM)
DSD64, DSD128, DSD256, DXD352.8kHz, DXD384kHz
Control
Tone Controls 5-Band
Tone Bypass and Input Assign Yes
Rear Panel IR Sensor Input Yes
Input Level Match Yes
Output Meters Yes
Chassis Finish Polished stainless steel & black painted steel
McIntosh Monogrammed Heatsinks
Standby Power Requirement <0.25 Watts
Unit Dimensions (W x H x D) 44.5cm x 19.4cm x 47.6cm
Shipping Weight 42.3 kg